Coventry University Nursery
Coventry University Nursery
Nursery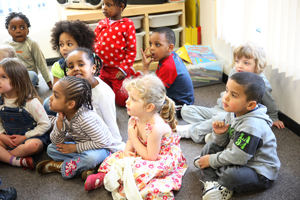 The Nursery at Coventry University is open to children of the ages 3 months to 4 years and is run by qualified, dedicated staff.
Every day is an offering of fun play, group and individual activities, exercise and quiet time.
We are located conveniently both to the campus and the city-centre, and are open to all – parents who are students, university staff and to those who don't have a connection to the university.
Staff
Qualified staff provide care for the children. The Nursery is registered with Ofsted who regularly inspect it to ensure that the National Daycare Standards are being followed. Read our most recent Ofsted Report. We continually evaluate what we do, observe the children regularly and plan appropriate activities to meet their needs, as well as caring for them appropriately.
Facilities and setup
The Nursery is split into 3 different rooms and each room accommodates a different age group. Stepping Stones is for children aged 3 to 4 years old. The second room, Pebbles, is for 2 to 3 years old and Cuddle Corner is for babies from 3 months to 2 years old.
We have introduced free flow between the Pebbles and Stepping Stones, which gives the children more choices as there are more activities on offer through the two rooms; this happens at set times during the daily routine and the older babies are also included in the activity time with a member of staff from Cuddle Corner.
The children from all age groups benefit from the use of two garden areas. Our sensory garden is under cover and includes wind chimes, plants and windmills. The second garden is a lot bigger and is used for the children to play with their outdoor toys and we also organise racing games and activities such as painting and water play.