Coventry University Mechanical Engineering
Coventry University Mechanical Engineering
Mechanical Engineering MSc
OVERVIEW
This course starts in September 2017 and January 2018.
This Mechanical Engineering MSc will enable you to develop your understanding and analytical skills in mechanical engineering. This qualification is internationally recognised and provides a wide range of career options.
Our use of current and advancing computer aided techniques coupled with teaching informed through our collaborative links with industry assures a course fit for current and future industrial needs.
WHY CHOOSE THIS COURSE?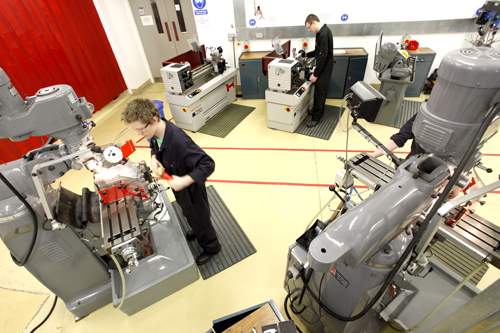 The course includes guest speakers from industry to deliver state-of-the-art information.
Projects undertaken on the course will offer students the opportunity to interact with companies and live research projects.
You will explore both theoretical and practical elements of mechanical engineering.
WHAT WILL I LEARN?
This course includes the following Core Topics:
Masters Project (Industry or Academic based)
Engineering Analysis and Simulation
Metrology and Lightweight Advanced Materials
Students will study core mechanical sciences along with: design, control, manufacturing, materials, project management, and computer aided engineering.
Entry Requirements
You must have an undergraduate degree in a mechanical or automotive related subject. Those with equivalent professional backgrounds may also apply.
This course requires IELTS 6.5. If you don't have the required level of English then view our range of Pre-Sessional English courses.
HOW TO APPLY
To find out more about how to apply, click on the Apply For This Course button above. Many of our courses offer a part-time study option. Note that the part-time mode of study is not applicable to international students, unless you hold a relevant visa – please check with the international office.
Please note: we have a range of taught postgraduate awards to suit your needs, from Postgraduate Certificate or Postgraduate Diploma to a full Master's Degree (MA, MBA, MSc, LLM). In most cases you can decide to exit at Postgraduate Certificate or Diploma level, without carrying onto the full Master's qualification.
How will this course enhance my career prospects?
A wide range of potential careers will be open to you on graduation including the opportunity to work as a mechanical engineer in automotive and aerospace industries.
You will learn to manage the process of industrial development which is essential to assure future commercial success.
Mechanical engineers are employed in all sectors of industrial operation and, in addition, their analytical and management skills are keenly sought in a wider commercial context.
GLOBAL LEADERS PROGRAMME
To prepare students for the challenges of the global employment market and to strengthen and develop their broader personal and professional skills Coventry University has developed a unique Global Leaders Programme.
The objectives of the programme, in which postgraduate and eligible undergraduate students can participate, is to provide practical career workshops and enable participants to experience different business cultures.
Click here for further details on the Global Leaders Programme.
Further information
If you click on the Order a Prospectus button above, we will send you a printed Postgraduate Prospectus; alternatively you can download a pdf prospectus.
To find out more information about Postgraduate Study at Coventry University, including finance and funding and the benefits of further study, see our Postgraduate Study pages.