Coventry University Architecture
Coventry University Architecture
OVERVIEW
This course runs in 2017/18
Professionals working in architecture are highly influential in creatively shaping the environment in which we live, work and play. Studying and practicing architecture is an intellectual, artistic and technical challenge, which can have wide ranging impact in society.
WHY CHOOSE THIS COURSE?
This course provides an innovative response to the challenges of the environmental, economic and social climate of the early 21st century. You will engage in the full depth and breadth of contemporary architectural education whilst also participating in interdisciplinary work with other courses in the University and overseas.
If you choose this course you will benefit from:
a course which is prescribed by the Architects Registration Board (ARB) and validated by the Royal Institute of British Architects (RIBA);
the opportunity to work on live projects in and around the city and wider area;
support from teaching staff who are recognized in their field as academics and practitioners, as well as from visiting tutors from leading architectural practice;
a dynamic approach to learning which offers an enormous potential for design creativity and innovation in architecture, including a strong studio culture which provides a community of learning;
an opportunity to work alongside students from a wide range of different cultures;
access to specialist industry-standard software, for graphics, technical drawing, 3D modelling, environmental modelling;
access to specialist model-making workshops and studios which include 3D printing, rapid prototyping, laser cutters, CNC machines and specialist printing;
optional overseas visits and field trips which form an integral component of the course, reflecting the international nature of architecture;
a course that achieved an overall satisfaction of 93% in the National Student Survey (NSS) 2015.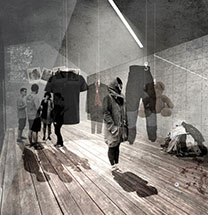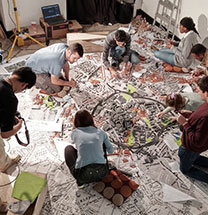 Accreditations

Coventry University's BSc (Hons) Architecture is currently prescribed by the Architects Registration Board (ARB) and holds full Validation from the Royal Institute of British Architects (RIBA). Prescription by the ARB is subject to periodic review, for the purposes  of entry onto the United Kingdom Register of Architects and is normally granted on a four-yearly basis subject to ARB being satisfied that standard requirements have been met. The prescription of this qualification will be due for renewal by 3 May 2020 as part of the 4 yearly review cycle.
WHAT WILL I LEARN?
In the first year of study you will cover the fundamental areas of architecture including: design, technology, cultural context and communication. You will also learn methods of hand drawing, sketching, model making and orthographic drawing.
In the second year you will consider the importance of the tectonics of architecture and start to make informed choices about materials, structure and environmental design. You will learn a range of skills including CAD, 3D modelling and will begin to develop your own digital literacy.
In the third year you will undertake a comprehensive design project that incorporates the core subjects of design, technology and environment and reflects your own emerging design philosophy. You will undertake an extended essay or a larger written dissertation on a subject of your choice. You will also work on a design project with students studying related disciplines in the university to develop an design proposal in groups.
You will also work collaboratively with students from the engineering and built environment disciplines as a team on a design project which mirrors working in practice.
HOW WILL THIS COURSE BE TAUGHT?
The core learning environment for the architecture course is the design studio, where, supported by regular lectures, seminars and your own [self-guided] study, you carry out your work and receive feedback on the outputs, through tutorials and reviews.
You will be encouraged to contribute to studio and taught subjects through, discussion, debate and seminars and you will develop the professional and intellectual skills of an architect at the same time as you learn the theoretical and technical content of your degree.
HOW WILL I BE ASSESSED?
An estimated percentage breakdown of how your final grade is assessed is as follows:
Project studio work – 60%;
Assisgnments – 30%;
Groupwork – 10%.
A compulsory Add+vantage module must also be completed.
TEACHING CONTACT HOURS
In a typical week you will have up to 20 contact hours of teaching and this will break down as:
Personal tutorial/small group teaching: 8 hours of design studio including one-to-one tuition and tutorials each week.
Medium group teaching: 12 hours of lectures and design studio including presentations and workshops each week.
Large group teaching: class sizes on this course are normally such that most of teaching is in small or medium sized groups.
Personal study: at least 20 hours each week studying and revising in your own time, including some guided study using hand-outs and online activities.
Entry Requirements
Essential Entry Requirements:
Minimum 5 GCSEs A*-C including English, Art and Design and Maths.
Candidates need to demonstrate both artistic and scientific ability. The A-level subjects will preferably include a mix of Art and Design, Humanities, and Science.
A Level: AAB. Exclues General Studies.
BTEC Level 3 Extended Diploma: DDD
International Baccalaureate Diploma: 34 points
For details of other acceptable qualifications please visit www.coventry.ac.uk/entryreqs
English as a Foreign Language: This course requires IELTS 6.5. If you don't have the required level of English then view our range of Pre-Sessional English courses.
All candidates are required to submit a portfolio of work. UK based candidates requied to attend interview.
How will this course enhance my career prospects?
When you graduate from this course you should be well suited to working in a range of architectural practices and other design industries and pursuing further studies to continue your professional or academic education. You should also be equipped with many specialist and professional skills, which can contribute to a wide range of industries and academic fields.
Coventry University is committed to preparing you for your future career and giving you a competitive edge in the graduate job market. The University's Careers and Employability team provide a wide range of support services to help you plan and prepare for your career.
The Faculty of Arts and Humanities have their own Creative Futures unit provides a programme of workshops, embedded learning, lectures, professional experience and one-to-one guidance to help you develop the transferable skills and enterprising habits required for a successful career.
NO HIDDEN EXTRAS
Included in the fees:

Specified core reading material;
Any mandatory residential field trips;
Any mandatory site visits and trips;
1,000 sides of black and white laser prints;
Tuition fee waiver for study abroad year;
Initial set of safety boots and hard hat;
Drawing and model-making equipment
Additional costs not included in the fees:
Any optional overseas field trips or visits: £400+ per trip;
Warm waterproof clothing for site visits: £150;
Contribution to additional expenses of mandatory overseas residential field trips: £150 per trip (usually 2 trips for this course);
Drawing and model making material.
For more details about the No Hidden Extras programme, click here for further details.
No Hidden Extras is part of our student promise, and by accepting your offer of a place with us, a Student Contract will be formed between you and the University.
ADD+VANTAGE
The focus on preparing students for successful futures sets Coventry apart as a university. The key: developing and enhancing students' employability, and delivering a serious competitive advantage in the jobs market. At Coventry, that starts right from the beginning.
The Add+vantage modules teach a range of work experience and extra-curricular activities that are taken each year, and which broaden students knowledge and skills within a work focused environment. There is a very broad range of Add+vantage free-choice subject areas, and they are arranged in themes.
OPPORTUNITIES FOR AN INTERNATIONAL EXPERIENCE
Coventry School of Art and Design has a multinational population and you will be working alongside students from all over the world.
As a student on the BSc (Hons) Architecture you have the opportunity to take an overseas study trip as part of your programme in each year and past destinations have included: Barcelona, Spain; Valencia Spain; Rome; Italy; Paris, France; Amsterdam, the Netherlands; and Berlin, Germany.
In addition the course has direct links with countries in Europe and beyond including practices and universities in Canada, USA, Germany, Netherlands and Spain and a large proportion of our students participate in additional placements and exchanges including studying on the Erasmus programme as part of an international experience year.
GLOBAL LEADERS PROGRAMME
Did you know we help more students travel internationally than any other UK university according to data from the experts in higher education data and analysis, HESA?
In 2014/15, we were able to provide a total of 2,264 student experiences abroad that lasted at least five days, 73% of which were our own organised trips for undergraduates and 27% from postgraduate travel. Plus, we've been able to help more than 5,000 students spend time in other countries, from America to China, India and beyond.
Much of this travel is made possible through our Global Leaders Programme, which enables students to prepare for the challenges of the global employment market, as well as strengthening and developing their broader personal and professional skills.
The objectives of the programme, in which eligible undergraduate and postgraduate students can participate, is to provide practical career workshops and enable participants to experience different business cultures.