Coventry University Alma Building
Coventry University Alma Building
Our Coventry campus spreads across the heart of the city centre, with each building within easy walking distance.
The main campus comprises of over 20 main student buildings, including our 2 newest buildings; The Hub – a modern social space for the students, and the Engineering & Computing Building which is crammed with technology. These are all managed by the University's Estates Services, along with the accommodation blocks, student houses, and Technology Park, giving a total of over 130 buildings.
You can download our campus map from our travel directions page.
Buildings
Alan Berry
CV1 5FB
This was constructed in 1963 and has a prominent position on our campus overlooking University Square.  This building is used by our Business Development, Registry and the Vice Chancellors Office. This was named after Alan Berry who was the Director and Chief Executive for the West Midlands Engineering Employers' Association.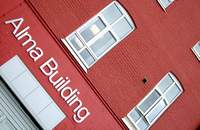 Alma
CV1 5QA
This was built in the 1920's and is the home of our professional services such as Estates, HR and Finance. This was the site of the Singer Works, out of which the Singer Penny Farthing was born and it also holds the origins to Coventry City Football Club.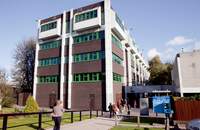 Armstrong Siddeley
CV1 5DL
This is the location of CU Coventry which opened in 2012, offering a new concept in HE, designed to integrate study into your life. The building was built in the 1970's and is named after the Coventry based engineering group  that operated during the first half of the 20th Century. They were renowned for the design and build of cars, aero-engines and aircraft and were absorbed into Rolls-Royce in 1966.