Coventry University 15th
Coventry University 15th
Top 15 ranking for Coventry in leading university guide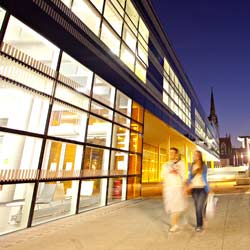 Coventry University has broken into the top 15 of UK universities in the Guardian University Guide 2016, which is published today in the Guardian newspaper.
The university has secured 15th spot overall – a rise of 12 places from last year – ranking ahead of a number of Russell Group institutions to achieve its highest ever listing and cement its position as the country's leading modern university.
Coventry has also moved ahead of several competitor universities in the Midlands for the first time, including Aston University and the universities of Birmingham, Leicester and Nottingham.
In today's newly published guide, Coventry University is ranked top in the UK for the percentage of final-year students satisfied with feedback and assessment by lecturers, and is second only to the University of Oxford for its teaching quality score†.
Seven of Coventry's subject areas are ranked in the country's top 10, including its courses in the film production and photography and hospitality, event management and tourism categories, which are second overall.
Other subject areas in which Coventry excels include economics (7th), accounting and finance (7th), fashion and textiles (9th), architecture (10th) and civil engineering (10th). A further thirteen subject area rankings feature Coventry in the top 20 overall.
John Latham, vice-chancellor of Coventry University, said:
Whilst we don't define ourselves by league table positions, they are a tangible external demonstration of our achievements and this result is a fantastic accolade for the hard work of the staff of Coventry University.

The metrics used to evaluate league tables can often be weighed against less traditional institutions, but this guide positions us on an equal footing with a number of universities widely considered to be among the most prestigious in the country. This success underlines that we are continuing to turn higher education on its head and break down customary misconceptions.