Apply for University of Hertfordshire
Apply for University of Hertfordshire
Applying to the University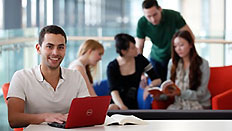 Applications for the September 2017 intake should be in by the beginning of August 2017.
Find out more about how to apply for undergraduate, postgraduate and research degrees at the University of Hertfordshire.
How to apply
As an International student, please follow the guidance below to apply to the University of Hertfordshire.
If you are an EU student please refer to our UK/EU How to apply pages
What you need to apply
To speed up the application process, please supply your completed application form PLUS the supporting documentation outlined below. Applying without all the required documents will delay your application.
Application form

Academic transcripts

1 for undergraduate and 2 for postgraduate study.

Evidence of English language qualification

In order to study in the UK, international students are required to meet a minimum level of English. Our courses also require a minimum level of English Language, this will be represented as an IELTS requirement or equivalent. Visit your country page to find out what equivalent qualifications we accept for English. We also offer English language courses for students who are unable to meet the minimum requirements for our courses.

Personal statement

Your personal statement is your opportunity to show our admissions tutors why you should be given an offer for your course. When considering what to include, think about the following:

Your reason for applying for the course
Your reason for applying to UH
Your reasons for applying to a UK university
Your career aspirations and how the course fits in with this

References

Please provide two academic references, signed and on headed paper.

Copy of passport photo page

Please provide a scanned copy of the photo page of your passport. If this is not included with your application it is likely to cause a delay when issuing the CAS for your visa application.

Proof of sponsorship, if applicable

Where relevant, include proof of sponsorship i.e. a scanned copy of your sponsor letter.

Immigration History Questionnaire

International students are limited to five years of study in the UK above degree level. Please complete our Immigration Health Questionnaire with all your study and visits to the UK.
Any additional information to support your application should be sent to admint@herts.ac.uk
Thinking of transferring to us?
Here at the University of Hertfordshire we understand that you might change your mind about your course or choice of university.
If you have changed your mind or if your circumstances are now different, it may be possible to transfer on to one of our courses even if you started your studies at another university.
Apply by post or fax
A PDF version of our application form is available to download.
Please ensure that the application is completed in full and refer to the guidance notes.
Return the form together with copies of your degree certificate and transcripts and any English Language test results to:
University of Hertfordshire
Admissions Office
Hutton Hub
College Lane
Hatfield
AL10 9AB
tel + 44 (0)1707 284800
+ 44 (0)1707 284800+ 44 (0)1707 284800
+ 44 (0)1707 284800
fax+ 44 (0)1707 286141
Through a university representative
The University has a network of representatives throughout the world who provide advice and further information about studying at UH. Find out who your country representative is on our country pages.
English language and foundation courses
We also offer a range of English language and foundation courses to suit your needs. Whether you need to improve your academic English or your subject knowledge, we have a course tailored to suit you.
EU students
If you are an EU student please refer to our UK/EU How to apply pages
Entry requirements
Before applying, check whether you meet the entry requirements for the degree course you are interested in.