Aberystwyth University Zoology
Zoology is the science of animal life, whether it be microscopic or massive, aquatic or terrestrial. Zoologists study animal diversity, evolution, behaviour, anatomy, physiology, and ecology, and develop the scientific and analytical skills demanded in a broad range of professions. If you are interested in obtaining a Master's degree, then  our MBiol Zoology (C309) course will be for you. This sister course is for the first three years identical to BSc Zoology, however you will have an additional year to undertake and complete a Master's qualification.
Here's why we think Aberystwyth is a great place to study a zoology degree:
Passionate teaching staff that conduct research in all areas of zoology.
Fantastic modern laboratories, microscopy suite, historic specimen collection, and aquarium.
Wonderful local habitats including coastlines, estuaries, woodlands, and hills, allowing access to species such as red kites, chough, grey seals, bottlenose dolphins and harbour porpoises.
PhD student at the Royal Veterinary College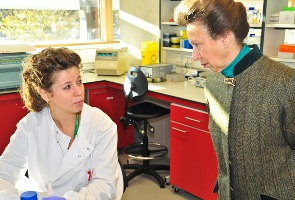 "Aberystrwyth is safe,  friendly – a home away from home and I loved living at the seaside, with the surrounding wildlife (including dolphins). The fabulous Zoology/Animal Behaviour department has unique biodiversity: a museum, an aquarium – need I say more? The department was extremely inspiring and I will forever be indebted for all the help and support I received.
I have an unconditional love for Aberystwyth, I fully enjoyed my 3 years there and I have Aberystwyth University to thank for everything I have succeeded in since. The perfect undergraduate degree is made up of a fabulous course, at an inspirational university, combined with the perfect seaside location and friendly atmosphere – these things together lead to a fulfilling and ‌satisfying university experience. Like all things you get back what you put in, and for me it was very hard to leave it all behind."