Aberystwyth University Agriculture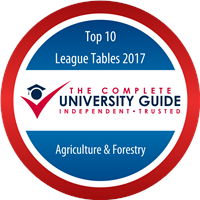 This BSc in Agriculture offers you a detailed coverage of all aspects of the agricultural industry, looking at a range of highly important subjects such as sustainability, environmental management and technology. This course will prepare you for work in this modern industry, an industry which demands detailed knowledge across a broad range of areas.
You will study a fascinating blend of science, technology and management with a firm grounding in animal and crop physiology and husbandry as well as business, economics and land use. You will move on to cover current and projected production systems from a production, financial and environmental perspective, be exposed to best practice and become familiar with the most current research.
Our Farms
Aberystwyth is surrounded by a great diversity of farmland and agricultural terrain.In addition, you will have access to the 1,000 hectare university farms, which are managed commercially by the Institute as well as being used for teaching and research.
A prize-winning institute that will help you reach your full potential!
This degree is delivered by our award-winning Institute of Biological, Environmental and Rural Sciences (IBERS), which is also the home of the Farm Business Survey for Wales. Aberystwyth University has a long-established and enviable reputation throughout the world for its teaching and research in agriculture and rural science, and IBERS is the largest and best-resourced university department of its kind in the UK.
Our students have won the "Biology Student of the Year" award at the European Science, Engineering, and Technology (SET) Awards, and the Welsh Ornithologists' Union Student Prize!
Our Institute of Biological, Environmental and Rural Sciences (IBERS) received the "Outstanding Contribution to Innovation and Technology" award at the 2013 Times Higher Education Awards.
Our Institute of Biological, Environmental and Rural Sciences (IBERS) in conjunction with Bangor University had the 5th strongest submission in the UK for the Research Excellence Framework assessment (2014).
Passionate teaching staff who are experts in their field